I've done the math. And it's not pretty. Even if I skip dinner, margaritas, chips and salsa rack up enough calories to get me straight through to next week. So, I've found a few scaled down recipes to help a girl out. Because we're not drinking these things for the sugar.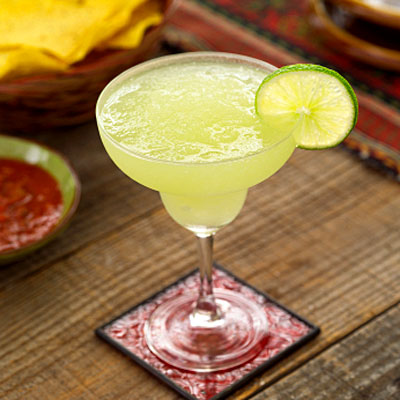 The Cooking Light Margarita
: 130 calories. 1 ounce premium or silver tequila, 1/2 ounce Cointreau or other orange-flavored liqueur, 1.5 ounces fresh-squeezed lime juice. Shake with 3/4 cup ice; garnish with lime.
Hungry Girl's Rockin' Razzy 'Rita
: 105 calories. 1.5 oz. tequila, 1/2 tsp. Crystal Light powdered drink mix in Raspberry Ice, 5 oz. water, 1 oz. lime juice. Optional: lime slice for garnish and salt or no-calorie sweetener for rim of glass.
Fitness Blender's Strawberry Margarita
: 134 calories. 1 shot of tequila, 1 cup frozen strawberries, 1/2 oz. lime juice (fresh is best), 1/4-1/2 packet low calorie strawberry water flavoring (depending on how strong you want it to taste), 2 oz. water, 3/4 cup ice cubes.
Any other good skinny cocktail recipes?